Employee Spotlight: Brianna Avillo, Marketing Team Lead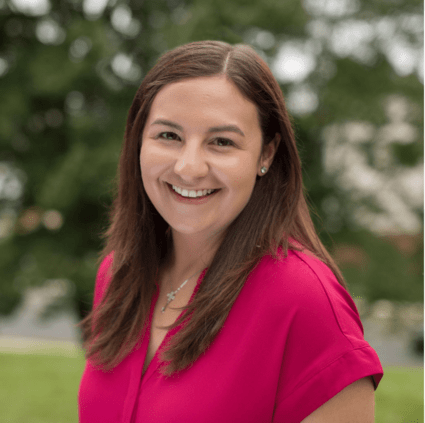 Meet Brianna Avillo, Madison's Marketing Team Lead! Brianna joined the team this year, but has made a huge impact in such a short amount of time. With her uplifting and encouraging attitude, she provides purpose, direction, and motivation to her team. She always has a smile on her face and is ready to take on any task that comes her way. We asked Brianna a few questions to find out more about her and what it takes to be a successful leader of the marketing team at Madison Trust.
1. What are your hobbies outside of work?
I have a lot of hobbies. One hobby I enjoy is video recording and editing, especially for my food blog. I also like listening to and creating podcasts. In addition, I love music and can play a variety of instruments: guitar, ukelele, saxophone, drums, bass guitar, and beginner piano.
I also enjoy staying active; each morning I start off my day with a bike ride or walk. I also like to cook when I have the time. Lately, for lunch I've been trying to be healthy by preparing a couscous with sauteed spinach and garlic- yum!

2. Can you explain your previous work/school experience? How has that helped you in your role at Madison?
My path to marketing is kind of a funny story. When I started college, my original plan was to be a psychologist. But that quickly changed when I went to the career fair and was handed a flier that said "Join the Radio". At the interest meeting for the radio club, I was introduced to the School of Communication, as well as the Journalism and Media Studies major. I enjoyed it so much that I switched my major and chose to specialize in Promotional Media.
Upon graduation, I was hired as a Marketing Coordinator of a design and construction company. I ended up serving as the Marketing Department of one. In this role I handled all the marketing efforts including creating marketing plans, social media, website updates, email blasts, SEO efforts, event planning, site photography, video editing, and more. I planned, implemented, reported, and analyzed the results of each project. I have used the skills I learned at my last job to execute the projects and requests by higher management at Madison Trust. I also think my few classes in psychology helped me learn how people think, which helps with marketing as I try to relate to our clients.
3. What drew you to work at Madison Trust? What is your favorite part of working at Madison Trust? How does Madison Trust compare to other places you have worked?
The first impression of Madison Trust that I received was from the recruiter Josh; he described the company and culture so highly. When I came in for my interview and met everyone, I knew for certain that I wanted to work for Madison Trust. Everyone here is so nice, supportive, and willing to answer any questions, which is especially nice as a newbie in the financial services industry.
I'm also very thankful for how much management invests in their employees. I have taken several training courses, all which I thoroughly enjoyed and have tried to use what I learned everyday. For example, I took a training called 7 Habits that focused on how to be an effective leader and prioritize your tasks. After this training, I have taken time each Friday to plan out the week ahead and write down my "Big Rocks"/high priority tasks for the week and figure out how long they will take and when I can fit in the lower priority tasks. Two other training courses I took are Taking Flight with DISC and Google Analytics.
4. What motivates you every day to go to work?
Knowing that I am coming into an office with really great people and a hard-working department motivates me. I enjoy and work well with the people that I collaborate with daily. Not going to lie...I also look forward to my morning cup of coffee.
5. As the Marketing Team Lead, what are your daily responsibilities? Can you describe a day-in-the-life as the Marketing Team Lead?
The first thing I do in the morning is check my email. Once I respond to everything, go to Microsoft Planner to look at the tasks I have for the day. A large portion of my day consists of project planning. I take time to plan out the objective, goals, steps, and timing of each project. I also categorize each project as short-term, mid-term, or long-term. I am happy to say that I have planned out our marketing projects for the rest of the year!
In addition, on average I have 3 - 6 meetings every day. Those meetings include a weekly project update meeting, two-week check-in with each department member, monthly meeting with Mr. Gleich- the President of Madison Trust, and more.
As much as I like to plan out my week, my days can change very quickly. I often get pulled into a variety of meetings or help a team member with any questions and problem solving. I am never bored!
6. Do you collaborate with other departments?
Yes, I collaborate with several other departments! I ask our Client Support Specialists for feedback and suggestions from clients, such as how our website can be more user-friendly or how our verbiage in the email blasts can be more effective. I also collaborate with our Compliance Team to make sure all of our marketing materials are giving accurate information and are compliant with our policies as a passive custodian. I also work with the Investments and Documents Team to understand any new initiatives and to create easy-to-read flowcharts of our processes. Recently, I also worked with several members from different departments to host our first annual Madison Trust Company Spirit Week!
7. Can you disclose any projects you are working on now or any projects that were your favorite?
We currently have a lot of exciting projects in progress. As I mentioned before, video shooting and editing is one of my passions so one of my favorite projects is our upcoming informational YouTube videos. We are also working on new landing pages, redesigning our website, increasing our blogging efforts, and developing a social media marketing strategy.
8. How does Madison compare to our competitors?
What separates Madison Trust from our competition is that we have free lifetime customer support. Our team is very responsive with emails and calls and proactively assists each client with their unique situation. However, this is just one of our many advantages. We also strive to be transparent with our fees and processes and take a lot of security measures so our client's assets are safe.
9. What do you think is the next step for Madison to become an even better custodian than it is now?
I would like to see some of our internal processes become automated. There are certain processes that take a lot of our team's time and effort, so automating part of the process will allow our team to focus on higher-priority tasks and complete our company goals.
10. How are employees empowered to help shape or participate in the company culture at Madison?
We have an email inbox dedicated to new ideas that will make our processes more efficient. Any employee can send in an idea and higher management will take a look at it and determine if it should be implemented. Many of them do get picked and come to fruition. This allows employees to be heard as well as shows that management values their input.
The President of the company also just started a program where he will have fireside chats with each department and answer any questions they have - whether it be about him or about the company's history or goals. Managers also have weekly or biweekly meetings with each of their team members to ensure open communication and answer any current questions or concerns. Having the leadership available to their employees, empowers the team members to bring up any concerns or ideas to a trusted manager and creates an overall welcoming and supportive environment.
11. Do you have a favorite company event that you've been part of?
Spirit Week for sure! To end the summer, the company hosted a week where employees were encouraged to dress up according to different themes, such as their favorite sports team and Disney character. It was very fun to see what people came up with for their costumes! During that week, we also held a philanthropy event where we collected necessities for a local food pantry. It was a really nice way to bring everyone together as well as have some healthy competition.
12. Do you currently invest in any alternative assets? If not, what would you invest in?
I would like to invest in real estate. It is a tangible asset that will always have some value, as opposed to stocks that can go down to a zero-dollar value. Real estate is also not as risky as other investments, which is good because I often err on the side of caution. I think a real estate rental property by the beach or some sort of resort would be ideal.
13. Do you have a favorite saying or quote you live by?
"A mind is like a parachute. It doesn't work if it isn't open" - Frank Zappa. I love this quote and try to live by it by approaching each situation with an open mind. Although it may be hard to do all of the time, it will only help you grow as a person in the end.
14. If you can have an unlimited supply of anything what would it be?

Definitely sushi or chocolate!