At Madison Trust, we are passionate about sensible, informed investing that can help people to secure a comfortable and fulfilling future. Part of that objective is providing knowledge that can help support investing journeys worldwide. Even if you are not an investor, it can be both fun and advantageous to learn about the most valuable companies in the world. We have created this visual guide to the most valuable assets ranked by market cap, including precious metals, large companies, exchange-traded funds, and cryptocurrencies. Not sure what market cap means? We will explore more about the meaning of market cap and why market cap is important below.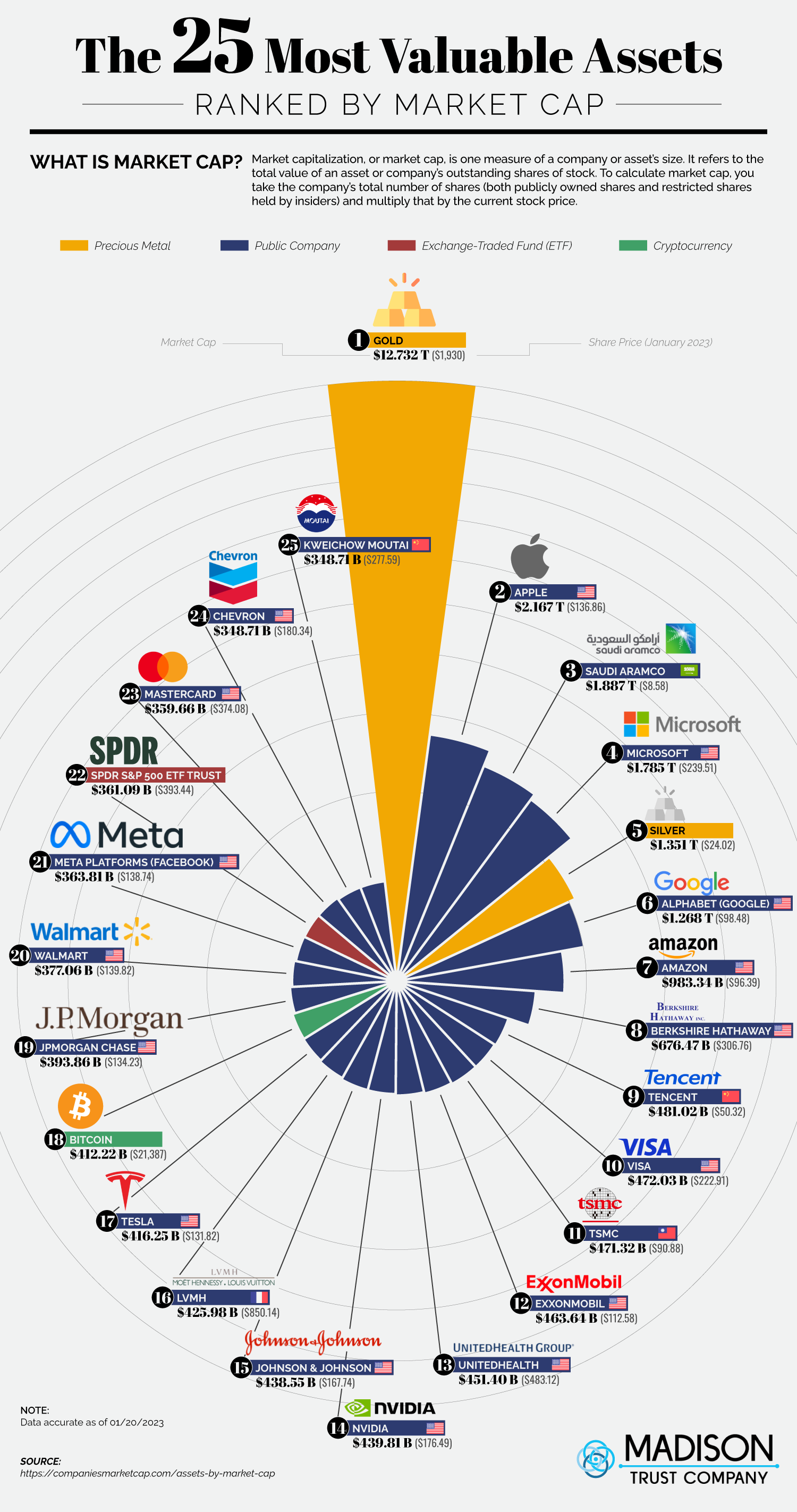 What Does "Market Cap" Mean?
The definition of market cap, or market capitalization, is "total value of a company's outstanding shares of stock, which include publicly traded shares plus restricted shares held by company officers and insiders."
How Is Market Cap Calculated?
According to the Financial Industry Regulatory Authority, to calculate market cap, you take the total number of a company's outstanding shares and multiply that value by the company's current stock price. So if a company has 10 million shares and its current stock price is $50, the market capitalization would be $500 million.
What Does Market Cap Tell You?
Market cap is a measure of a company's total size. As a company grows and becomes publicly traded, market cap provides a sense of just how valuable it is despite a vast diversification of ownership. You may hear companies being described as mega-cap, large-cap, mid-cap, small-cap, and micro-cap. The definition of market cap sizes varies, but generally, the parameters are as follows:
Mega-cap: Market value of $200 billion or higher
Large-cap: Market value ranging from $10 billion to $200 billion
Mid-cap: Market value ranging from $2 billion to $10 billion
Small-cap: Market value ranging from $250 million to $2 billion
Micro-cap: Market value of less than $250 million
Why Is Market Cap Important?
For starters, it provides investors a metric to gauge the current size of the company as well as the market's perception of its potential success. This is because it reflects how much investors are willing to pay for a company's stock. If a small but promising company has just emerged onto the stock market, investors may pay more for shares because they believe it will be lucrative in the long run. Market cap is also an indication of a company's stability. Large-cap companies tend to be less susceptible to the market's fluctuations than mid-cap and small-cap companies because they typically have deeper financial reserves to absorb losses and bounce back.
So is it good if market cap is high? Large-cap stocks do tend to be a safer bet, but smaller companies may have greater potential for quick growth and bigger returns. Overall, market cap helps investors choose stocks that suit their goals. It can also help you diversify your portfolio — if you invest in both large-cap stocks and small-cap stocks, you can manage risk and build a cushion for more risky plays.
What Is the Most Valuable Asset by Market Cap?
The answer to what asset has the highest market cap actually isn't a company: Gold has the highest market cap in the world. The market cap of gold is a dazzling $12.732 trillion! Why is gold worth so much? The market value of gold is influenced by many factors, such as the rate of mining, jewelry demand, federal reserves, the value of currency, and market volatility.
Is Gold a Good Investment?
While we can't say whether gold is a good investment for you, historically, gold has maintained its value through market upheavals. Investing in gold is typically considered a hedge against inflation because it retains its value even when the buying power of government-issued (or fiat) currencies declines. That is why many investors scoop up gold during periods of inflation. Gold is also a fantastic asset to diversify your portfolio; the value of gold tends to increase when stock and bond values fall, and vice versa.
What Are the Most Valuable Companies by Market Cap?
Here are the top 25 most valuable assets and biggest companies in the world by market cap:
Gold: $12.732 trillion ($1,930 per ounce)
Apple: $2.167 trillion ($136.86 per share)
Saudi Aramco: $1.887 trillion ($8.58 per share)
Microsoft: $1.785 trillion ($239.51 per share)
Silver: $1.351 trillion ($24.02 per ounce)
Alphabet (Google): $1.268 trillion ($98.48 per share)
Amazon: $983.34 billion ($96.39 per share)
Berkshire Hathaway: $676.47 billion ($306.76 per share)
Tencent: $481.02 billion ($50.32 per share)
Visa: $472.03 billion ($222.91 per share)
TSMC: $471.32 billion ($90.88 per share)
ExxonMobil: $463.64 billion ($112.58 per share)
UnitedHealth: $451.40 billion ($483.12 per share)
NVIDIA: $439.81 billion ($176.49 per share)
Johnson & Johnson: $438.55 billion ($167.74 per share)
LVMH: $425.98 billion ($850.14 per share)
Tesla: $416.25 billion ($131.82 per share)
Bitcoin: $412.22 billion ($21,387 per Bitcoin)
JPMorgan Chase: $393.86 billion ($134.23 per share)
Walmart: $377.06 billion ($139.82 per share)
Meta Platforms (Facebook): $363.81 billion ($138.74 per share)
SPDR S&P 500 ETF Trust: $361.09 billion ($393.44 per share)
Mastercard: $359.66 billion ($374.08 per share)
Chevron: $348.71 billion ($180.34 per share)
Kweichow Moutai: $348.71 billion ($277.59 per share)
Please note that these numbers were accurate as of Jan. 20, 2023. The market is constantly fluctuating, so be sure to check current numbers if you're thinking of placing an investment. But since the market caps for these companies are so massive, they generally remain fairly stable.
Related: Real estate IRA
Would you like to display this on your website? Copy and paste the code below!
<center>
<textarea readonly>
<a href="https://www.madisontrust.com/information-center/the-25-most-valuable-assets-ranked-by-market-cap/">
<img src="https://www.madisontrust.com/wp-content/uploads/2023/02/most-valuable-assets-market-cap-6.png" alt="The 25 Most Valuable Assets Ranked by Market Cap - MadisonTrust.com - Infographic" title="The 25 Most Valuable Assets Ranked by Market Cap - MadisonTrust.com - Infographic></a><br><a href="https://www.MadisonTrust.com" alt="MadisonTrust.com" title="MadisonTrust.com">By MadisonTrust.com</a>
</textarea>
</center>